Bike Shop Services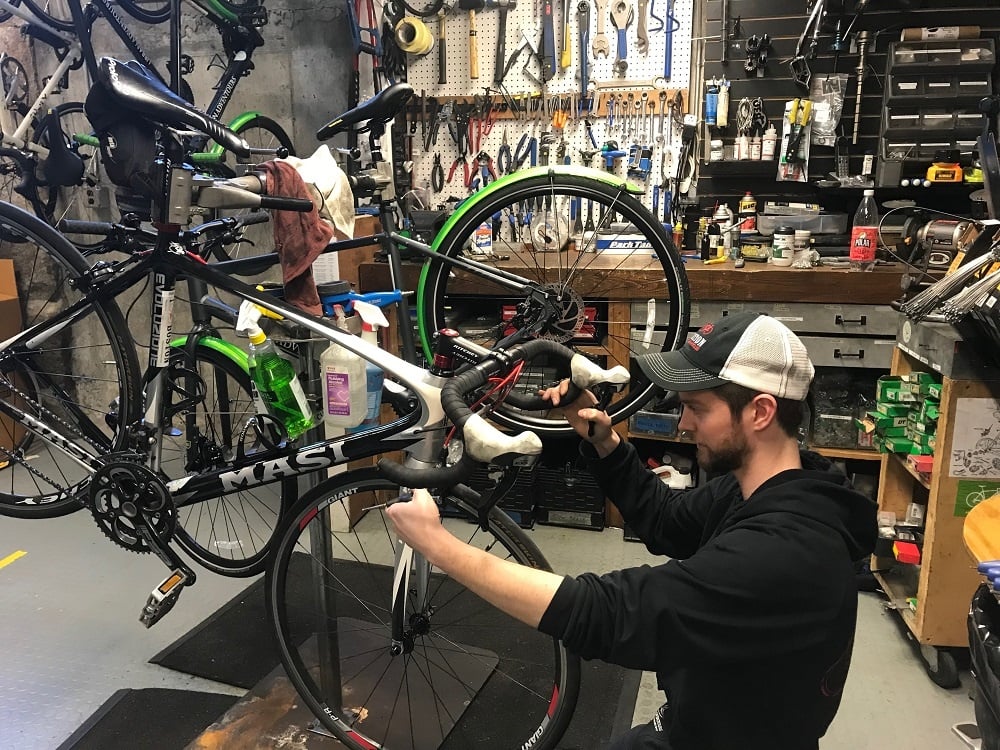 We are proud to offer a wide range of high-quality services in our repair shop. Need something we don't have listed? Give us a call at 617.670.0637 or swing by the shop and we'll see what we can do.
If your bike needs fixing but you're worried about the cost, don't fret! We'll always give you an estimate before performing any work, and inform you if anything else pops up during the repair.
In addition to a la carte repair services and tune ups, we also offer:
Boxed Bike Build
Bought a bike online? Moving to Boston and had to ship your bike? Our professional mechanics are happy to assemble your bike and get you back on two wheels. Boxed bike builds start at $100, and we find it best if you ship your bike directly to the shop! Just give us a call at 617.670.0637 to let us know when it's coming!
Box and Ship Services
Whether you're going around the corner or around the world, keeping your bike safe in transit is an absolute necessity. We disassemble, wrap, and pack bikes in the same way that they're shipped by the manufacturer. We can even take care of shipping logistics to your destination via your preferred carrier. We've been the shop of choice for riders in multistage charity rides such as the Tri-State Trek for years!
Lock Cutting
We've all lost a key or two, and not being able to unlock your bike is extremely inconvenient, to say the least. If you can demonstrate ownership, we're happy to cut a damaged, stuck, or keyless bike lock for you.
In-shop lock cutting is $30, while out-of-shop cutting is $50. Please note that we are only able to cut locks in our normal delivery range, and the $50 fee does not include transportation back to our shop, although we are happy to provide this service for our regular bike delivery/pickup fee.
To request a lock cut or for more details, give us a call at 617.670.0637.
Fleet Maintenance
Does your hotel, school, or office have a fleet of bikes?
We offer affordable fleet maintenance services on a scheduled or on-demand basis. With more than ten years of experience maintaining our own rental fleet, we're experts in repair logistics and understand how important it is to have your bikes in top notch condition.
Event Mechanics
Looking for a knowledgeable mechanic to help with your community event or serve as ride support?
Urban AdvenTours is happy to send along one of our skilled mechanics to you to help with quick repairs or on the road support. We can bring our full tool kit and stand to set up 15 minute tune ups, or join you on a ride to help with flats and other small repairs. In the past we have participated in parades, transportation fairs, TMA fairs, charity rides and more! Contact us at [email protected] with your idea.
Mechanical support is $110/hour with a transportation fee of $110 and a minimum order of $330. Contact us for more information or to get a personalized quote!
Demo Program
Considering upgrading your ride? Come by the shop and ask about our new Performance Demo Program. We'll get you set up with a 24 hour rental, and if you decide to make a purchase we'll take the rental cost off the final price!*
Here at Urban AdvenTours we firmly believe that the best way to sell a bike is to get you riding one, and we have a great selection of high-end bicycles and components for you to choose from.
*In order to discount the rental cost from the full price of an item, final purchase MUST be made within one week of the original demo. Only one day of you rental can be applied toward your purchase.

Mobile Service
Even though we have the longest hours in town, we understand that you're busy too. The Urban Cycles team proudly offers a slew of mobile repair services to keep you rolling. With everything from pick up and drop off capabilities to third-party fleet maintenance, we're the most mobile mechanics this side of the Charles!
We're happy to pick up and drop off bikes anywhere in the greater Boston area! Using either our nifty Surly bike trailer for little jobs or our beautiful green BioBus for long distances or multiple bikes, we are ready to come to you! With a minimum order of $100, we'll swing by and grab your steed, and optionally leave behind a loaner to keep you rolling. Delivery is $25 one-way.
Call the shop at 617.670.0637 to get set up. Advance notice is strongly recommended, as we are unable to accommodate every request for delivery.